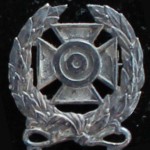 Many years after my father died, my mother gave me a framed collection of my father's World War II U.S. Army metals and insignia. The site icon on this website is one of them from which hangs his firearms qualifications: Rifle, Pistol-D, Rifle, Auto-Rifle. He was proud of his service and considered his years in the Maine National Guard and the Army during World War II as his most important contribution to the United States of America.
Although he was buried in his Captain's uniform in the Golden Gate National Cemetery (as was his older brother, Hiram), my mother chose to keep his metals. Because I had a close relationship with my father throughout the final fifteen years of his life, she passed these to me as a memento of that relationship.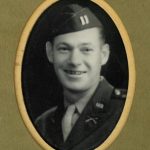 After the war and the death of my second brother, my dad suffered from post traumatic stress syndrome (PTSD) and drank heavily for many years. Only my older sisters and surviving brother experienced this part of his life. At some point in the late 1940s, he joined Alcoholics Anonymous. From that point, his drink of choice was black coffee, his drug of choice was unfiltered nicotine from the two packs of Camel or Lucky Strike cigarettes per day, and his faith as a devout Christian sustained his mental strength.
In all the years I knew him, he attended church every Sunday and donated his skills as a carpenter to the pastor's requests for a Cross lit from behind, repaired pews, laid carpet and a myriad of other tasks as part of his service to God.
Captain Thomas A. Verrill, US Army Retired was one of the best men I have ever known and his grandsons reflect this daughter's love, pride and respect for him.
Leigh Verrill-Rhys
Author
PS: If you can identify any of the metals in the above photo, please let me know in the Comments below – much appreciated!